There's only a couple of months in winter with stable snowpack allowing compacting a solid snowshoe trail. I absolutely love snowshoeing in Maine. Some years the snow in central and mid-coast Maine comes and goes, never sticking for long, unable to accumulate due to warm temps and melting.
This year here in Bucksport, we were bestowed with 20-inches in one storm alone. Needless to say, I've kept my snowshoes nearby. Chippy and I get out about 6 days a week on our private trail and jam out to our favorite playlist (included below).
Our little mountainous road is often difficult–if not impossible–to traverse due to ice, mud, and washouts. Often, it's so slick you can't walk on it without cleats or creepers. In the outdoor adventure world, these are called crampons. When shopping for snowshoes, you'll want to remember that word, crampons. For me, snowshoes are a necessity in addition to enjoyment.
What type of snowshoes should I get?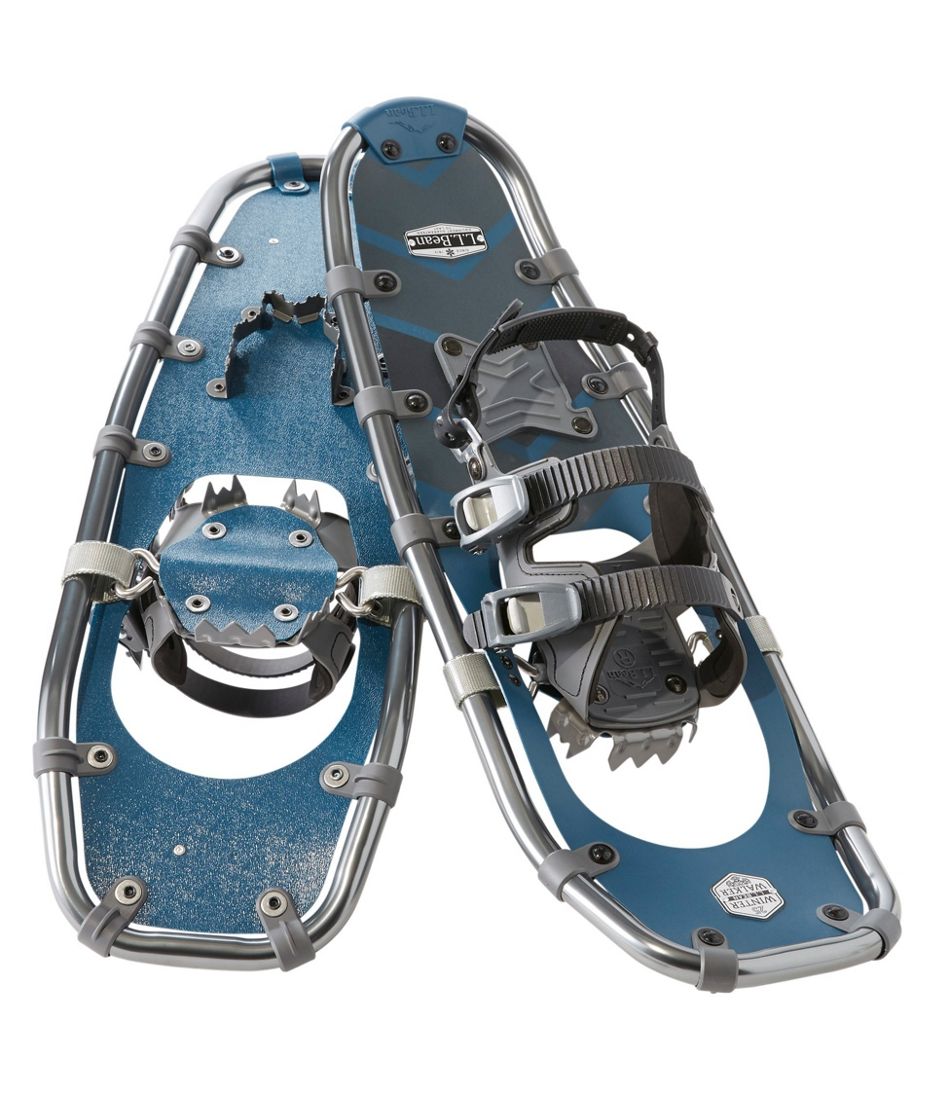 I've tried several different types of snowshoes. I have even made 'survival' snowshoes for my kids from fir bows. My favorite are a lightweight aluminum tube and plastic based pair from L.L. Bean with two ratcheting straps (see photo) that are easy to release one-handed, while wearing bulky mittens.
Now I absolutely love old-fashioned stuff, but when it comes to snowshoes, there's just no comparison. New tech all the way in this department for me. Mine were a returned item purchased at the L.L. Bean employee store by my sister-in-law who works there. I'm cheap AF, ok?
Tips for Snowshoeing in Maine
Get snowshoes with gnarly cleaty-things called crampons. You can literally run over glare ice with them. It's amazing. If you think you'll be walking up fairly steep hillsides, a heel raise platform option on your snowshoes will save your calves from suffering.
Swing your hips wide and try not to overthink it. I find the rhythm of music makes me move along faster and more naturally (recommended child of the 80's playlist below).
Dogs can be afraid of snowshoes or stupid enough to walk under them mid-stride like my Pomeranian. Practice without your furry friend, then introduce them to your dog once you are comfortable in them.
Avoid walking on bare ground to keep your crampon points (if you have them) sharp and to avoid unnecessary wear. Think of it as only walking on surfaces that are softer than the materials your snowshoes are made of. If you're going with kids, work the proven 'floor is lava' theme into your trek.
Bring a rope, bungee, or pack to stow your snowshoes in or strap them onto if you plan to only use them for part of your trip. I have even strapped them on me with my belt. If you do strap them onto you, make sure the cleat is facing out, so you don't fall onto them. Don't die.
Don't try to walk backwards or make sharp turns. Make small, angled steps to turn yourself around (taking care not to step on one snowshoe with the other) while standing in place, then continue onward.
If you sit on the ground to rest and aren't as limber as your local vegan yoga instructor, find a spot to sit near a tree to help you stand again.
When packing down a trail, remember to turn around and pack down the opposite strides for a solid path, especially if you plan to pull a sled on it in the future. Having an even rhythm matters a lot when you're packing a trail.
It can be tempting to look at your feet. Don't forget to look out for twigs that might poke you in the eye when you look back up. Thankfully I wear glasses or else I'd be looking like a pirate by now. Clear sports glasses can really protect your eyes when walking through brush if yo don't usually wear glasses. For the record, I would make a sexy pirate.
If you have poor balance, it may be worth using ski poles. Hiking poles with baskets can be a worthwhile investment. But honestly, if I can do it with my pigeon-toed poor balance combo, anyone can.
Turn 90° and step side-to-side down steep banks to keep pressure off your toes and walk more controlled.
Bring your snowshoes inside to melt off to keep them lightweight for next time.
Valentine's weekend 2022 expedition on Scopan Lake: Snowshoeing in Maine for necessity
Our most recent excursion was a Valentine's retreat (from the media circus and sheeple of society) to a remote family camp on Scopan Lake. We've been meaning to go for years and finally picked a date.
On the way there we followed the shoreline on the lake using an already packed snowmobile trail. It was around 40°F that day and there were a couple feet of snow on the lake's frozen surface.
It was slushy, and at one point my husband got stuck, tripped, and landed in slush. When I heard the splash, I thought the lake had swallowed him for a millisecond. Even in snowshoes he was sinking through the packed trail down to the surface ice. A small island in the lake was nothing more than a snowy lump.
I had never been there before and wanted to explore the woods. The soft snow compacted under our snowshoes making for a slow-going journey. Our little dog, Chippy, kept trying to jump on the backs of our snowshoes to catch a free ride, seen in the video below. It may look like Kevin's sinking a TON, but keep in mind, the snow is a lot deeper up in Aroostook aka The County.
Liverwort and lichen flourished on dead and fallen trees there. I had turned my backpack around on my chest allowing me to stuff the long pastel strands of Old Man's Beard greedily inside, with one arm. I had a cast on the other arm. A maple had fallen with some of the longest wisps I've seen. Poor Kevin, the places I drag him. He was even good enough to break trail in a 36-inch snowpack wandering from toadstool to toadstool.
On the way back out, it was 5°F with -12°F windchill. I took a dishcloth and wrapped it around my face as a scarf before leaving—of course it was a headwind. The snowpack was plenty stiff, and Kevin only stepped through a few times on the way back in just his big boots. My boots were not waterproof, so I kept my snowshoes on for toe safety. We were a long walk from the car yet, and wet feet are highly susceptible to frostbite. When it's a necessity, snowshoeing in Maine isn't always sunshine and lollipops.
---
Basic safety tips for the winter outdoor enthusiast:
Watch the weather forecast closely. And as us Mainers say, if you don't like the weather wait a minute. It can change quickly.
Dress in LAYERS and listen to your body: Remove layers if you start to sweat, especially on longer treks away from home and on colder days.
Bring plenty of water. It's a pain to carry a lot, but don't let that limit what you bring. If you're planning to haul ass, bring more. Don't forget a dish for your furry friend if you bring them.
Don't underestimate the energy required when you're snowshoeing in Maine. It can be exhausting, especially in heavy snow that sticks to your snowshoes. Apparently there's stuff made to spray on skis that can be used to keep the snow from clinging and balling up—but I haven't used it personally. It wouldn't hurt to pack a pick-me-up snack either.
Be safe: If you are going alone, tell someone where you are going

and the latest you will be expected back. (True crime junky in the house.)

Your phone is not a compass. A real compass does not need batteries. Be sure you have a topo map and know how to use it in a remote situation. I recommend trying Gaia GPS
Pack a basic survival pack depending on how remote you are going. See the trusted guide handed out at hunter's safety courses in Maine: You Alone in the Maine Woods
Bring a multi tool with a knife, saw blade, and screwdriver.
Duct tape a key under your license plate—hence the screwdriver. (I bought a car with three different types of screws used to hold the plate, so check you have the right tool for the job. It also ran on 3 cylinders, and you could see the steel in the tires, so there is that.) The last thing you want is get back to your car and realize your keys are somewhere on the trail… and it's getting dark.
Bring a headlamp, even for day treks. A hands-free light source can't be beat, especially in the case of an emergency.
Bright colors are easy to see in the snow. Forget the camo-themed crap. My game cam card holder is spray painted neon pink with blue stripes because I kept losing it. I'll give Kevin credit for that idea. He's right on occasion. I have to laugh at camo headlamps, tow straps and mittens—good luck ever finding those on the trail.
Deep snow and it's effect on wildlife:
An added bonus to well-packed snowshoe trails is that deer will use them. Last year we had a small fawn here daily. I thought she would not make it through the winter. I bring the wildlife our kitchen scraps, rolled oats, and a molasses-coated livestock grain I used to buy for our dairy goats. I sprinkle it along the trail, sometimes making fun designs to see how they change the next time I pass by.
As an avid hunter, I give back to our local wildlife population here on the mountain. I use the feathers, leather and bones of animals I hunt in our art. The parts we don't use initially are composted, later adding nutrients to our garden.
Last October I bagged seven partridge in northwestern Maine on paper company land, where the roads literally have no names. Giant double-haul, overloaded logging trucks always have the right-of-way up there. Last November, I was fortunate to harvest my first doe from our land.
It's a pretty amazing feeling to provide food for our family through hunting, foraging and growing a garden. Our freezer is brimming with game, livestock we raised, wild mushrooms and garden goodies. Last year alone I canned 32 pints of strawberry rhubarb preserves.
With two feet of snow or more of in the woods and pointy hooves, it's a lot of work to get around in winter. Deer burn a LOT of calories trying to find scarce food, which is lower in both calories and overall nutritious value by this time of the year. A heavily pregnant doe is easy to take down by even a single coyote, since they have wider feet and toe pads which work better on the surface of deep snow.
I recently made a flagged trail. Along the way, I took photos of different waypoints with the Gaia GPS app as a scavenger hunt for my kids. Common bird roosts, high coyote activity and specific trees are among the marked waypoints. We have one tree decorated for Christmas year-round.
There are intersections and two trailheads we will make fun signs for. You can sign into the app online and print off maps for free with all your saved data. There's a $40 annual subscription for more advanced maps and features. I find the free version adequate for our adventures.
And finally, what you've all been waiting for, my millennial mash up snowshoe playlist with a few modern twists… If you're on Apple Music, here's my link.
1979, The Smashing Pumpkins
I'm Shipping up to Boston, Dropkick Murphys
The Stroke, Billy Squier
Hand of Blood, Bullet for My Valentine
Forty Six & 2, Tool
Take Me to Church, Hozier
Lonely Day, System Of A Down
I' Zombie, White Zombie
Mouth for War, Pantera
Soldier Side, System Of A Down
Icky Thump, The White Stripes
Swap Meet, Nirvana
Holy Mountains, System Of A Down
Animal, Sir Chloe
Heat Waves, Glass Animals
Hypnotize, System Of A Down
Don't Speak, No Doubt
The Foggy Dew, Paddy Murphy
1979, The Smashing Pumpkins
I'm Shipping up to Boston, Dropkick Murphys
The Stroke, Billy Squier
Hand of Blood, Bullet for My Valentine
Lithium, Nirvana
Zero, Smashing Pumpkins
Zombie, The Cranberries
Mr. Crowley, Ozzy Osbourne
Say It Ain't So, Weezer
Tears Don't Fall, Bullet for My Valentine
Change, Deftones
Heart-Shaped Box, Nirvana
Wild World, Brandon Boyd
Seaside, The Kooks
Sweater Weather, The Neighbourhood
Planet Caravan, Pantera
Love You to Death, Type O Negative
All These Things I Hate, Bullet for My Valentine
The Bitter End, Placebo
Be Quiet and Drive, Deftones
Sober, Tool
Tear in My Heart, Twenty One Pilots
The Pot, Tool
Aerials, System Of A Down
Santeria, Sublime